"Theory is splendid but until put into practice, it is valueless." (James Cash Penney). An educational example, "Yes, I understand what to do sir."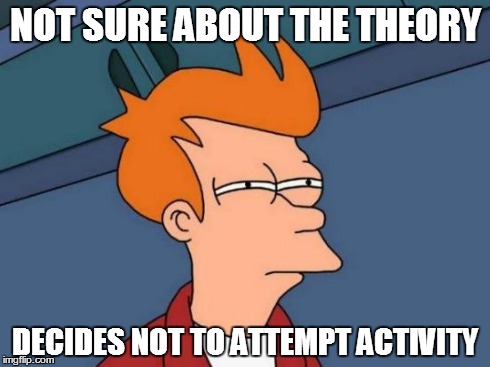 The introduction of new theories, skills and attributes is difficult because students struggle to get to grips with practicing new theories. As an educator this is where the true value is added. So, how do we move from the theory of non-cognitive development to implementing it into practice?
From Policy to Practice
The continual debating by political panels, educational theorists or interjections from third parties leaves untested theories. The classroom teacher, unknown to them, has been involved in developing new policy. They are now expected to put this policy into practice. Like the students they will struggle, but in this case there is no one on hand to support them. The theory is forgotten as true mastery has not been attained. A reactive response develops to throw together evidence of practice. (For example, marking books in my PGCE and NQT year). So how do we support the implementation of non-cognitive development into the classroom?
Simple answer, bring teachers into policy development. Over the past month I have been involved in 4 different policy networking events, where the general theme has been on non-cognitive development in students. Buzz words were flying out left, right and center. Yet, every time I found myself able to relate to strategies used in the classroom, that exemplified the non-cognitive traits. Offering a critique to proposals based on evidence shifted the direction of conversation from the "policy buzzworder's" to myself. This demonstrates the value of those in the classroom.
Implementing non-cognitive skills?
A Head teacher from a local school told me, "the schemes of work in their school center around the kind of people that would be successful in University or vocational qualifications" and backwards plans from this vision. When I am developing a scheme of work, I think about the non-cognitive skills and learning objectives I want the students to develop. For example, I have recently planned and finished a unit of work on Metals and their Reactivity. The non-cognitive focus is to develop independence, self-reflection and choice (I'll be blogging about this next week). This was alongside the academic learning goals. By orientating yourself to focus on the kind of students you want, the activities begin to tailor themselves.But, failures, critiques, alterations and improvements have been important to support the reflective development of this teaching strategy.
This is where the problems lies, there is no accountability for non-cognitive development in the classroom. Therefore, the risk:benefit ratio is useless, because it not worth risking progress to develop new systems of non-cognitive learning. Consequently, teachers can not relate to the policy that is trying to be implemented and their opinions become less valued. It's easy to see the paradox we are caught in. So where does this leave us?
College of teachers…